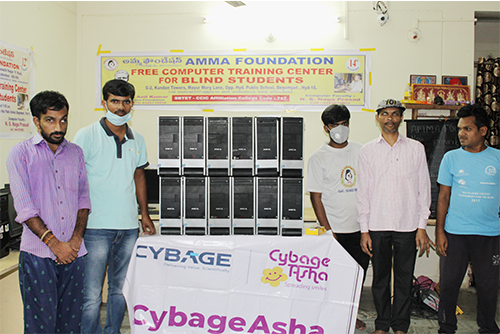 12/11/2020:&nbsp
To ensure that quality education reaches the children and unemployed youths of its adopted communities, CybageAsha recently organized a used CPU donation drive. The Trust donated CPUs to Smile Foundation, Amma Foundation, Madhumitha Software Services, True Way Life Foundation, and BAIF Development Research Foundation NGO. These non-governmental organizations provide free computer education to the underprivileged. A total of 71 CPUs, which belonged to Cybage Software, were given to these organizations.
​Smile Foundation runs a free computer training center for unemployed urban and rural youths. Amma Foundation provides free computer training for blind students. Madhumitha Software Services provides free computer training and soft skills training for urban community youths. CybageAsha donated CPUs to the True Way Life Foundation which is an orphanage. BAIF NGO works for the upliftment of rural areas and will use these CPUs for their office work.
CybageAsha also donated CPUs to Zilla Parishat High School at Somangurthy Village, Pudur Mandal, Vikarabad Dist. A total of 166 students from 6th to 10th classes are studying at this school. This donation drive will help and encourage the rural students in their computer learning programme.