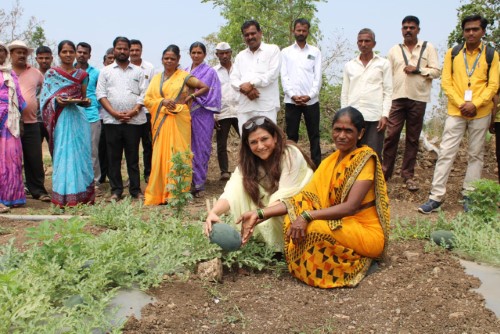 15/04/2022:&nbsp
Ms. Ritu Nathani, Director, Cybage, and Head, Cybage CSR, visited villages in Pune's Velhe taluka to oversee the ongoing work on vegetable plots today, and to interact with the farmers to understand the impact of the project at grass root level!
This season, 219 plots have been planted with various kinds of vegetables, such as Tomato, Cucumber, Watermelon, Okra, Bitter gourd, Chili, Brinjal, Ridge gourd, Drum sticks, fenugreek, and coriander. CybageAsha supported the farmers with mulching paper, crates, drip kits and spray pumps apart from seeds, seedlings and technical guidance.
CybageAsha also introduced the horticulture garden concept for barren land, which will helps farmers earn an income in the summer season too. CybageAsha is trying to enhance the lives of rural families by providing means to have a continuous income throughout the year.