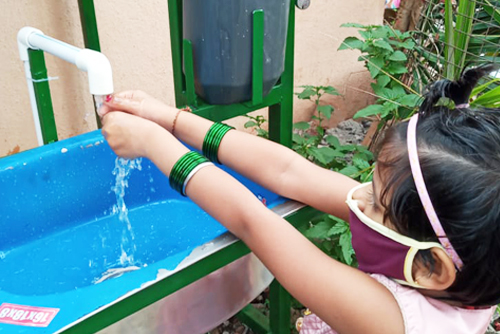 17/07/2020:&nbsp
The rapid spread of coronavirus all over the world is raising anxiety amongst all. Responding to the unfortunate pandemic, CybageAsha too offered a helping hand for its adopted urban communities of Khulewadi and Ambedkarnagar in Pune district. On previous occasions, CybageAsha had conducted many activities in these communities that included health camps, eye camps, dental check-ups, and digital literacy and adult literacy program. 
This time too, CybageAsha reached out to people in crisis.  Aligned with the safety norms prescribed by the government, on June 17, 2020, CybageAsha installed two -pedal-operated hand wash units in Khulewadi and Ambedkarnagar. These smart, safe community hand wash units are helping in maintaining the required hygiene standards during the current pandemic. It dispenses liquid soap by pressing one pedal and water by pressing the other one. This ensures touch-free handwashing for the individuals and prevents the spread of infection as the unit is operated by foot. 
CybageAsha has come up with a Public-Private Partnership (PPP)model of a public health intervention in collaboration with Pune Police, Pune Municipal Corporation, and Maharashtra Jeevan Pradhikaran which has facilitated water supply for the unit.